Shipping Policy
-WHAT COUNTRIES/REGIONS DO ANARACHIC SHIP TO/WHERE DOES ANARACHIC DELIVER?

We Ship/Deliver Orders Worldwide Except These Countries/Regions:
Bolivia,Dominica,Guyana,Honduras,Mongolia,Papua New Guinea,St. Vincent,The British Virgin Islands,Ecuador,Panama,Venezuela
*Kindly Note, We Don't Ship Countries/Regions Which Are Permanently Restricted Due To The Local Policies; The Temporary Restricted Is Because Of The Shut Down Under The Impact Of The COVID-19, Once The Epidemic Is Getting Better, The Carrier Will Delivery Orders Normally.
-HOW MUCH DOES SHIPPING COST?

We Provide Free Shipping For Orders Over KES 10000, While Shipping Fee Will Be Charged If Your Total Order Amount Couldn't Reach The Limit. For More Details, Please Refer To The Table/Chart/Picture Below.
*Kindly Note, The Shipping Fee Charged By The Carriers, Once Your Orders Shipped/Assigned A Tracking Number, It Couldn't Be Refund If Any After-Sale Requests Raised.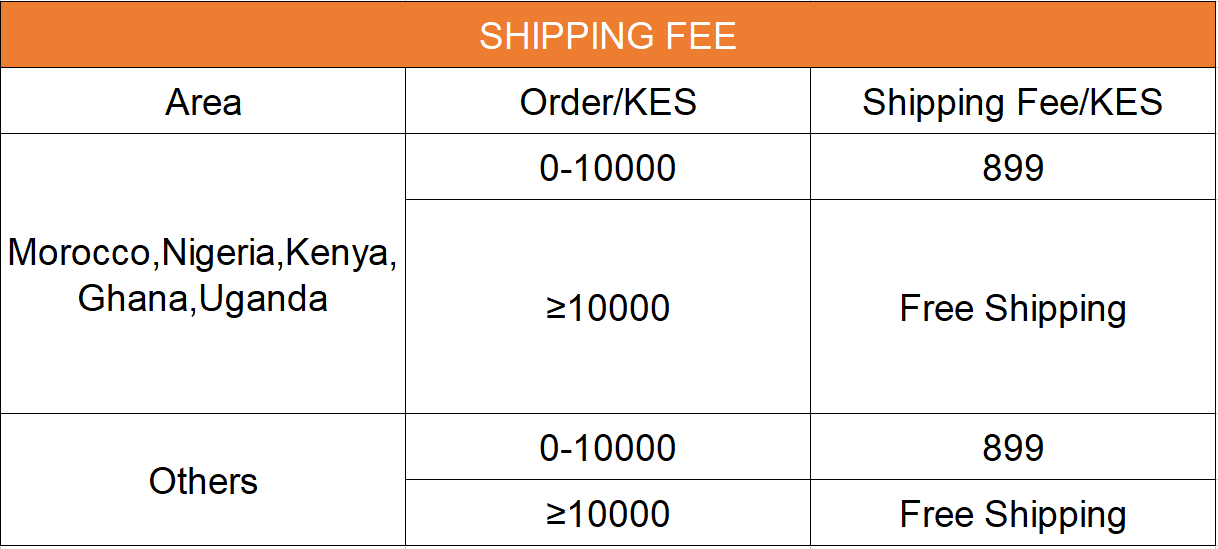 -HOW LONG DOES YOUR SHIPPING TAKE/HOW FAST CAN I EXPECT MY PARCEL?

Most Of Our Orders Will Be Shipped Within 3-7 Business Days, During This Time Our Customer Support Will Help To Process And Confirm Your Orders. After Shipment, We Estimate You'll Receive Your Orders Within 7-20 Business Days. Delivery Time Varies From Districts, But Please Rest Assure That We Do Our Best To Make Sure You Receive Asap.
*Kindly Note, Your Order Processing Time May Take A Little Bit Longer Than Usual During The Time, Such As For Pre-Sale/Out-Of-Stock Items, The High Season And Sale Or The Epidemic.
The Carrier May Not Delivered On Weekend Or Local Festivals Period. We Are Not Responsible For The Extra Shipping Time Caused By These Reasons.
-ABOUT INTERNATIONAL ORDERS & DELIVERIES DURING COVID-19
Due to COVID-19, air travel has been restricted, which affects our ability to deliver products as quickly and efficiently as we do during normal times. International deliveries may take longer than usual and certain delivery destinations might see further restrictions. You can find the most up-to-date delivery estimates at checkout.To learn more about ANARACHIC COVID-19 response, Please contact us:[email protected].
Shipping time: Due to the impact of the pandemic, the logistics duration will be longer than expected. The specific logistics time depends on the local shipping company. After processing and leaving the warehouse, items usually take between 7 and 20 days to arrive at their destination but can take longer from time to time.